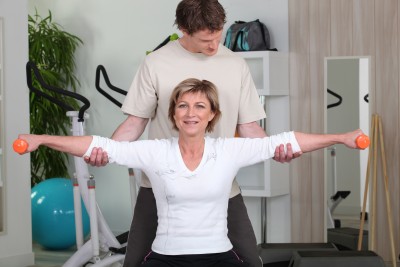 At West Coast Kinesiology Orthopaedic and Sports Injury Clinic we provide quality physiotherapy assessment and treatment emphasizing a movement approach. Even though we specialize in rehabilitating athletes, you can be assured that non-athletes can also benefit using this expertise for pain reduction and movement restoration. We aim to make your entire rehabilitation experience as great as it can be. Our friendly, well educated reception staff will be happy to answer any questions you have or put you in touch with one of our practitioners who can ensure you are booking an appointment with the person who will be best suited to your needs.
We are Ridge-Meadows premier sports injury and therapy clinic offering physiotherapy, kinesiology, massage therapy, athlete testing and conditioning, personal training, exercise therapy, ICBC and WCB (WorkSafeBC) programs. Our methods, modalities and programs include athletic taping and bracing, manual traction/stretching, interferrential current (IFC), ultrasound, vestibular rehabilition, core stabilization, sport-specific programs and work conditioning.
Sport conditioning relies on secondary fitness elements (balance, agility, coordination, power, speed and reaction). West Coast Kinesiology and physiotherapy sport training will help children, adults, athletes and weekend warriors move with greater efficiency and effectiveness. The primary goal is to improve an athlete's ability to develop quick and controlled, deceptive, powerful  and confident movement patterns that will provide the tools for improved sport skills, tactics and overall performance.
We provide exercise as part of our therapy, no matter what age or ability level. Treatment may involve a variety of methods and modalities including: ultra-sound, electrotherapy modalities, heat/ice, manual therapy, acupuncture, posture correction, stretching and strengthening. Our university trained physiotherapists are committed to providing quality care by participating annually in postgraduate courses in order to stay informed of the latest evidence-based physio treatment techniques.
Whether your injury is acute or chronic, our physiotherapists will get you on the road to recovery and work toward meeting your activity goals as quickly as possible. You can expect a complete and comprehensive assessment, education regarding your injury and activity and a goal oriented treatment program. Our focus will be on getting you back to your chosen sport for both the long term and short term. If possible, we will help you continue to run/play/compete while you are injured and if needed advise you to withdraw while things have time to heal.
Neurological Conditions: physiotherapy rehabilitation can help many conditions from head injury, stroke, Multiple Sclerosis and Cerebral Palsy. Long term complications such as muscle tightening can reduce mobility further, yet easily be resolved.
Musculoskeletal Injuries: Bone, muscle, joint disorders, caused by old/new injuries, falls, surgery and disease such as arthritis, sports injuries, tennis elbow, and joint stiffness.