DJ Orthopedics – Market Leader in the Orthopedic Bracing Industry 
DonJoy dominates the industry with significant market share in all the key segments of sports and orthopedic bracing. DonJoy's strong presence is due to its superior design and performance. DonJoy functional braces feature a dynamic design with the patented Four Points of Leverage that controls anterior/posterior translation. Our broad range of rigid knee bracing and soft goods, as well as complementary orthopedic products such as cold therapy walkers, and pain management products, allows us to provide our customers with unequaled value and needs satisfaction.
Warranty
DonJoy brand products have a limited warranty from the date of purchase against defects in materials and workmanship. Warranty varies with some products. Custom knee braces have a lifetime warranty.
Four Points of Leverage
DJ Orthopedics' goal from the beginning has been to revolutionize orthopedic bracing. The U.S Patented Four Points of Leverage is a dynamic bracing system designed to prevent abnormal anterior drawer. The four points of leverage are integrated to work against abnormal translation. And, the effective sequence of strapping ensures force generation directly over the tibia opposing the abnormal translation.
---
Products
Below are a sample of the range of products that will help you back to normal activities.
All of the athletic brace fittings are done by our Physiotherapist or Kinesiologist. Please call 604-467-4675 to set up an appointment.
Off The Shelf un-stocked items take 2-3 days to ship while custom braces usually take 7 to 10 working days to arrive.

KNEE LIGAMENT
The
Custom Defiance
is DonJoy's hallmark knee brace. Combining the ultimate in technology, materials and design, this lightweight brace provides durable support for moderate to severe ACL, PCL, MCL and LCL instabilities. Plus, the low-profile design fits comfortably underneath clothing and sports uniforms, including hockey and football. As the strongest of DonJoy's functional braces, the custom, carbon composite Defiance is recommended for high collision sports, while its featherweight materials and custom-fit also make it the brace of choice for activities of daily living. Available in three lengths standard, short and standard thigh with short calf.
The
ACL Everyday
by DonJoy® is extremely comfortable, light and ideally suited for everyday use. The brace is designed for mild ACL/MCL/LCL instabilities and incorporates the 4 Points of Leverage™ system pioneered by DonJoy®.
Armor
by DonJoy is the strongest, off-the-shelf functional knee brace on the market and is designed for active people seeking ligament protection, excellent fit, and superb comfort.
KNEE OSTEOARTHRITIS (OA)
When the support of bilateral hinge bars is required, the
Adjustable OA Defiance
can be built with 1°-7° of varus or valgus load, making it an ideal support for unicompartmental degenerative joint disease with ligamentous instability. The new Adjustable OA Defiance is designed for the active OA patient who does not want to compromise their high level of activity. The Adjustable OA Defiance is an extremely lightweight brace that provides durable support for mild to moderate levels of osteoarthritis. The bilateral hinge bars offer support of ligament instabilities, as well as, a patented telescoping condyle pad that puts the load control in the hands of the patient.

OA Adjuster:
Designed for moderate to severe, unicompartmental osteoarthritis. The OA Adjuster is recommended for ligament instabilities and post-operative rehabilitation.
A60™ ANKLE BRACE
Created with the athlete in mind, the A60 provides a winning combination of effective support and protection, comfort, and simplified application. The patent pending design incorporates a sleek stabilizer located on either side of the ankle. This stabilizer is molded at a 60 degree angle to help guard against ankle sprains and prevent rollover. Manufactured from breathable material, the A60 ensures that the wearer stays comfortably cool and dry, while the light-weight anatomic design easily fits in athletic footwear without creating additional bulk. The A60 is applied and adjusted with a single strap that securely holds it in place; replacing time-consuming lacing.
The
A60 Ankle Support
is available in three sizes: small, medium, and large, with left and right models.
Product Features and Benefits
60° Stabilizer guards against rollover and helps prevent sprains
Sleek, anatomic design for a comfortable bulk-free fit
Simple single strap application and adjustment
Breathable fabric keeps wearer cool and dry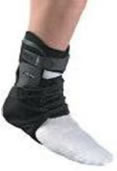 Velocity Ankle Brace
The Velocity represents an evolution in DonJoy ankle brace technology, utilizing several new, proprietary design features, resulting in a new level of ankle brace performance and providing the foundation for successful ankle injury prevention and treatment. The Velocity is a low profile, lightweight ankle brace that prevents abnormal ankle inversion, eversion, and rotation while allowing natural, unrestricted dorsi- and plantar-flexion. The combination of soft goods with a rigid, hinged foot plate and calf cuff provides unsurpassed levels of control, fit, and support. Three Velocity versions are available, affording patients and athletes multiple ankle support levels.
Stabilizing Ankle Brace
The Stabilizing Ankle support features non-stretch nylon figure 8 straps which lock the calcaneus into place to help control abnormal eversion and inversion. The full-circumference tib/fib strap provides adjustable compression and stability. Ideal for chronic ankle sprains and prophylactic use.
ComfortForm Wrist / Thumb
Durable and lightweight the ComfortForm is lined with Lycra for breathability and patient comfort. Preformed aluminium stay and hook/loop closure helps provide an anatomically correct fit. Perfect for carpal tunnel syndrome, Scaphoid Injury, Gamekeepers Thumb, and Quervain Syndrome. Universal sizing.

Quickfit Wrist
Cool, soft felt/brush nylon construction with dorsal stay in an adjustable stay pod to allow for range of motion settings. Perfect for carpal tunnel syndrome. Universal sizing.
Thumb-O-Prene Splint
Neoprene splint with a combined thumb abduction insert and palmer stay. Perfect for carpal tunnel syndrome, Scaphoid Injury, Gamekeepers Thumb, and Quervain Syndrome. Universal sizing.
Tru-Pull Lite

The TRU-PULL LITE, ideally suited for adult patients with mild subluxation, mal-tracking, and patella arthritis, boasts a patented 'Dual Durometer Buttress System' that interfaces directly with the skin at the knee providing a soft and tacky interface with the patella, thus applying a consistent corrective force. Just 1.27cm thick and lightweight, this brace is a powerful product in a small size, therefore ideal for the female patient or just anybody needing the strength of the Tru-Pull patented system, but not wanting the bulk or length of the current Tru-Pull Advanced System. Made from breathable, anti microbial moisture wicking fabric, this brace also provides the ultimate in patient comfort and compliance.
The
DonJoy® TRU-PULL LITE
features a single, pre-bent, hinged upright designed to ensure consistent off-loading through a patient's range of motion, low profile, lightweight, and comfortable Breath-O-Prene® and MicroMesh fabrics, and arthritis friendly features.


Powerful product in a small size! All the power of the Trupull AS in a pint size brace.
The product is ideal for female patient needing the strength of the Tru-Pull patented system, but not wanting the bulk or length of the current Tru-Pull AS.
Comfortable, lightweight, low profile materials…Breath-O-Prene®, MicroMesh and Anti-microbial fabrics.
Patented Dual Durometer Buttress System interfaces directly with the skin at the knee providing a soft and tacky interface with the patella applying a consistent corrective force on the patella.
Semi flexible nylon hinges included with every brace provide moderate medial/lateral support.
Low profile (0.050" thick) and lightweight
Leaves skin cool and dry
Eliminates skin irritation and provides comfort by wicking away moisture
New to DonJoy products, this breathable, anti-microbial, moisture wicking fabric is hypoallergenic, breathable, and light weight – thereby increases patient comfort & compliance.
Bifurcated strap dynamically pulls the patella into proper alignment reducing pain associated with patellofemoral dysfunction.
Independent anchors at the thigh and calf prevent rotation of the brace
Minimizes fraying through long periods of use
Easier to grab when disengaging Velcro
Easier to grab when attaching or detaching wraparound thigh
Rotulax Elastic Knee
General stabilization of acute patella injury. Preventative use in case of hyper-lax patella. Proprioceptive & neuromuscular stimulation through compression.

Sports Hinged Knee
The
Drytex Hinged Knee
, designed for mild to moderate medial lateral control, is a neoprene alternative constructed of a unique nylon core and polyester lycra; fabric that allows for improved airflow. This fabric provides compression and support, yet allows for breathability. Ideal for patients who have allergies or irritations to neoprene or live in warm weather climates.
Performer Patella Knee Brace
The patellar buttress is ideal for supporting lateral patellar subluxation, dislocations or lateral patellofemoral malalignment.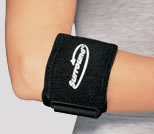 Universal Surround® Elbow w/FLOAM™
Comfortable neoprene strap features FLOAM bladder and wraparound universal design with loop-lock closure. FLOAM is intended to reduce impact stress to the epicondyle and helps dissipate muscle force over a greater area. Durable to withstand wear during exercise, sporting activities, and repetitive work conditions. Ideal for bursitis, sprains, strains, tendonitis, Medial epicondylitis (Golfer's elbow) and Lateral epicondylitis (Tennis elbow). Universal sizing.
Surround Patella Strap
Helps relieve anterior knee pain caused by patellar tendonitis, chondromalacia and Osgood Schlatter by applying pressure to the patella tendon. The primary body of the strap is a soft, latex free nylon/foam laminate with contact closures. A unique cylindrical Floam™ bladder is encased inside the body of the primary patella strap and may be adjusted for added compression. Floam provides uniform compression and a customized fit while prohibiting pressure from being displaced to bony prominences.
---