ATHLETIC TAPING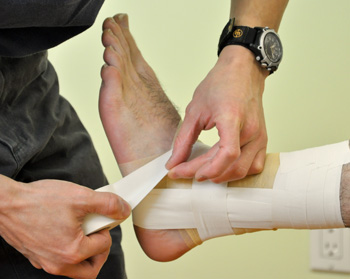 West Coast Kinesiology offers expertise in athletic taping for athletes and/or sports teams.  We provide taping to protect injured areas, promote an earlier and safer return to sport, or to prevent the recurrence of an injury.
Athletic taping is a procedure that involves the application of specialized tape to the skin to help maintain stability of the bones and muscles during activity. Taping is an effective treatment for relieving pain, stabilizing joints, and creating body awareness. Taping can be used for:
Joint and ligament support
Pain control and management
Postural retraining
Joint position and proprioception
Positional correction and increased support
Sports rehabilitation
Time required varies with the joint(s) and the purpose of taping, but is generally 15 to 20 minutes.
Athletic Taping Fee (including the cost of taping supplies) is: $25 per body part