B. Sc. Kin, Practicing Kinesiologist, AIS – Active Isolated Stretching therapist, STR – Soft Tissue Release therapist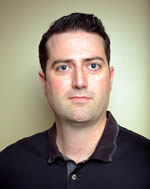 Kevin has worked as a Practicing Kinesiologist (BCAK) since graduating from the University of the Fraser Valley in 2008. Kevin follows an evidence based approach to assessment and program design and believes each program should be tailored to the individual's goals and needs.Since graduating, he has continued his education through seminars; including Matheson's Functional Capacity Evaluation Certification Program, Titleist Performance Institute Level One Golf Fitness Instructor, Stuart McGill: Building the Ultimate Back, Functional Movement Screen Level One, as well as Hardcore Kettlebell Certification and Dynamic Variable Resistance Training (DVRT) Level One.
Kevin is a certified Active Isolated Stretching (AIS) and a Soft-Tissue Release practitioner (STR).
Kevin grew up playing minor hockey in Coquitlam and continues to enjoy playing a variety of recreational sports. In his spare time, Kevin enjoys photography, music, hiking and biking. He has recently begun volunteering his time with the Canucks Autism Network (CAN).