BPT, CAFCI Registered Physiotherapist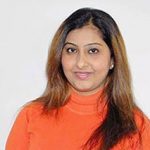 Jennifer is a self motivated and confident individual, holding a Bachelor's Degree in Physiotherapy from Rajiv Gandhi University, Bangalore, India and registered to practice in BC. She carries a vast experience treating cases of muscular skeletal, cardio respiratory and neuro-rehabilitation. Jennifer has attained her certification in acupuncture (CAFCI) and offers this treatment in our clinic. She communicates effectively and sensitively to clients in both Hindi and English.
She also holds a certification in YOGA from India and is a member of CPTBC. Her friendly nature helps her work with clients of all different age groups.
In part time she enjoys traveling, trekking and badminton.